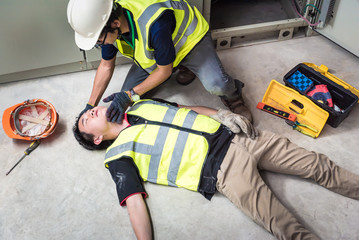 Workplace Accidents: When To Call An Attorney
Have you had a workplace accident and are wondering when to call an attorney? At Bernstein | Polsky, we believe that it's unfair for you to suffer any injuries due to workplace accidents. While you are doing your best to provide your hard work and services you should be protected. Workplace accidents are relatively common due to the negligence of others and lack of proper safety precautions. However, many individuals aren't given the appropriate financial settlements that they deserve after experiencing a workplace injury. The time to call an attorney is right after the workplace accident happens. At Bernstein | Polsky, we have a national client base and strive to represent your family successfully and zealously. We won't give up until your company gives you the money you're entitled to because we understand that medical bills aren't going to pay themselves.   
Many work accidents can happen due to the company's negligence. There are many places in the workplace that can be dangerous. One of them, which is often overlooked, includes stairwells. Offices in older builders may not be up to date with codes and maintenance checks, which means that the steps could be uneven and could have broken pieces of wood, or the railing along the side may be wobbly. All of these are safety hazards that could lead you to call an attorney after an injury.    
Another common issue in the workplace is the flooring. Whether it's wet floors in a restaurant, bathroom, or loose carpeting, you could slip and fall. A slip and fall accident can be hard to prove, but with a quality attorney from Bernstein | Polsky on your side, you'll receive the compensation you rightfully deserve. Even restaurant jobs or any job that has a kitchen presents safety hazards and potentials for violation codes. If your company hasn't taken action on replacing faulty equipment, then an injury could lead to a settlement.   
Unfortunately, many companies don't want to pay when a member of their team or workplace is injured during their shift. However, you can make the opposite party compensate for all your losses, but you will require a well-informed Premises Liability attorney who will protect and fight for your interests. The time at which you file the lawsuit and how punctual you are in completing the procedures could make or break your case. Our lawyers at Bernstein | Polsky are committed to delivering just, efficient and timely service. Bernstein | Polsky is a civil law firm with certified, professional and experienced attorneys for your litigation issues. At Bernstein | Polsky, we believe that people, regardless of their socio-economic background deserve to have their rights represented. If you have sustained injuries in a premise due to another's negligence and demand accountability, call our team today. Call (954) 997-9947 today to help your loved one get the justice they deserve.   
https://bpinjury.com/wp-content/uploads/2022/09/Bernstein2.jpg
240
359
damg
https://bpinjury.com/wp-content/uploads/2023/03/logo.svg
damg
2019-12-31 15:07:43
2019-12-31 15:07:43
Workplace Accidents: When To Call An Attorney