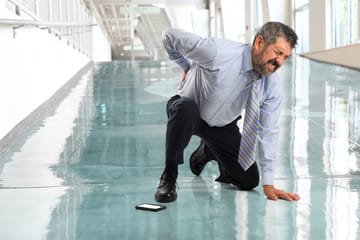 When Do I Need a Personal Injury Lawyer in Boca Raton?
Bernstein | Polsky is a civil law firm located in Boca Raton committed to fighting for justice on behalf of our statewide and national client base in catastrophic personal injury, medical malpractice, wrongful death and property insurance claims. Our outstanding founding partners, John Bernstein and Josh Polsky, have a proven winning track record, working on behalf of both plaintiffs and defendants, successfully and zealously representing our valued clients to maximize victorious results. In the last decade alone, the personal injury lawyers of Bernstein | Polsky have litigated cases and brokered settlements valued in excess of one hundred million dollars!
What you don't know and don't do can actually hurt you! If you've been seriously personally injured, you will need an experienced personal injury lawyer to negotiate a fair settlement, or to file a lawsuit on your behalf. Being well informed about how personal injury laws affect claims and can help you avoid the pitfalls like missed deadlines and unrealistic expectations. The experienced personal injury attorneys at Bernstein | Polsky have experience with hundreds of personal injury cases and claims and can be valuable partners to have safely and successfully guide you through the process.
Expert Lawyers: Knowing Personal Injury Law in Boca Raton
The expert lawyers of Bernstein | Polsky provide significant experience in several practice areas and litigation in Boca Raton:
Injury claims: catastrophic personal injury wrongful death, boating accidents, negligent security, nursing home abuse, daycare abuse, premises liability, slip and fall accident, traumatic brain injuries, workplace accidents.
Property insurance claims: condo damage, denied claims, fire, flood, hurricane, mold, tornado, theft, vandalism, windstorm, undervalued claims, underpayment, and so much more!
Claims litigation experience: car accidents, personal injury, products liability, PIP collections, property claims, medical malpractice, wrongful death.
Bernstein | Polsky has successfully handled all types of injury cases involving vehicles and boats, medical malpractice, defective products, dangerous premises, nursing home abuse, pedestrian accidents, swimming pool incidents and more. Florida law recognizes a "comparative negligence theory," which means that the plaintiff can still recover some compensation even if he or she is found to be partially at fault for the accident. The plaintiff's recovery will be reduced by his or her percentage of fault. So, if you or someone you love has been injured in a motor vehicle accident, slip and fall, or by another person's negligence or a defective product, it is imperative to have a lawyer from Bernstein | Polsky that you can count on to represent your interests and fight for the justice you deserve.
Filing a personal injury claim or lawsuit quickly is important, because under Florida law, there are statutes of limitation that dictate how long a person has to file a lawsuit for personal injury claims, resulting in compensation. If that limit of time passes, the person who may have been injured no longer has any legal right to file any sort of claim. This is why you need to retain a knowledgeable Florida personal injury lawyer as quickly as possible after an accident is imperative.
When You Need the Best Personal Injury Lawyer: Bernstein | Polsky
Apparently, personal injury claims in many states are on the rise because cities across America are experiencing a building boom, a rebound in manufacturing and a residential renaissance. And the dramatic increase in population density has directly affected the number of local Boca Raton personal injury cases and accidents.
At Bernstein | Polsky, we have seen an increase in construction site injuries and deaths because of work sites guilty of code and safety violations. Also, in the last few years the number of dog bite claims against homeowners, and the average payout for those claims, has been skyrocketing as well. While medical malpractice claims as a whole may be slightly down due to consents, payouts for those claims are up.  Simple slip-and-fall accidents are more common than ever and not so simple to handle without the right attorney by your side. These are just a few examples of the many different kinds of personal injury claims in Boca Raton Florida, which require prompt and deliberate legal representation.
The powerhouse personal injury team at Bernstein | Polsky has years of combined litigation experience, and a track record of success in fighting for the rights of personal injury victims. We have noticed that the first mistake personal injury victims of any accident make is in hesitating to contact legal representation straight away! In a world so filled with unknowns and surprising accidents lurking around each corner, it's nice to know that someone is on your side and ready to help you find the answers you seek.
Do not hesitate to contact Bernstein | Polsky for a free consultation as early as possible after your personal Injury accident. We can come to meet with you in your home, or even at the hospital, to discuss the circumstances of your accident and to determine how much you are entitled to receive in compensation for your injuries. We understand what a challenging and stressful experience this may be for you and your family, and will do everything we can to guide you through the process of claiming a settlement with a minimum of difficulty and delay.
https://e6a8q5fu3cm.exactdn.com/wp-content/uploads/2022/09/SlipFall.jpg?strip=all&lossy=1&ssl=1
240
360
damg
https://bpinjury.com/wp-content/uploads/2023/03/logo.svg
damg
2019-08-15 17:36:09
2019-08-15 17:36:09
When Do I Need a Personal Injury Lawyer in Boca Raton?