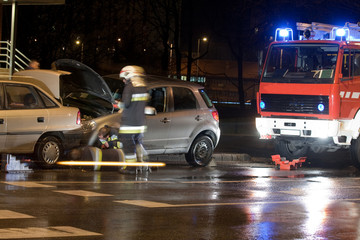 Who Can You Call for a Car Accident Lawyer Boca Raton?
Are you wondering who to call for the best car accident lawyer in Boca Raton? Accidents involving cars are among the most common causes of serious injury and death in South Florida each year, even despite the advancements in technology and significant safety improvements in automobiles and in the design of roads.
At Bernstein | Polsky of Boca Raton, we feel compelled to increase awareness and to educate the general public about certain dangers that increase the risk of car accidents in Boca Raton, like distracted driving: we may have smart phones, but we also have plenty of drivers making dumb choices. Everybody's life is filled with distractions these days and any activity that takes your concentration off the road while driving and puts it somewhere else, is a distraction. Taking your eyes off of the road even for one second can mean life or death car accidents.
At Bernstein | Polsky, we have significant experience in successfully litigating a myriad of car accident claims:
Car accidents
Hit and run
Motorcycle accidents
Pedestrian accidents
Taxicab accidents
Trucking accidents
UM/underinsured motorist claims
 The Best Boca Raton Lawyers: No-Fault Car Accidents
If you are looking for the best car accident lawyers and law firm in Boca Raton, it can be a bit overwhelming. If you are considering speaking with a personal injury specialist about a potential car accident case, you are probably aware that you have many choices of South Florida law firms. However, Bernstein | Polsky is a truly a one-of-a-kind, dynamic law firm located right in the heart of Boca Raton, with a very successful track record for helping people injured in car accidents.
At Bernstein | Polsky, we offer a unique "personalized touch" to all of our car accident and personal injury cases. When you first meet with us to discuss your case, you will realize our car accident lawyers passionate level of dedication, our commitment to our personal best and the depth of our knowledge regarding car accident laws.
When it comes to receiving compensation for a car accident case in Boca Raton, there are a few things that you should know. Firstly, there are about a dozen states where the "no-fault" car insurance laws are in effect and Florida is one of them. A "no-fault" claim for a car accident will fall under your personal injury protection benefits, otherwise known as "PIP" benefits. All Florida drivers are required to carry PIP benefits under as a minimum under their respective policies.  The term "no-fault insurance " means that your own car insurance carrier will bear the responsibility of paying some or all of your medical bills and lost earnings if you should get into a car accident in Boca Raton, regardless of the attribution of fault. PIP covers you individually in an accident, but will also cover your child, members of your household, relatives, a passenger who lacks PIP coverage and does not own a vehicle, licensed drivers who drive your vehicle with your permission, and some other case-specific scenarios.
Florida No-Fault Law allows for prompt payment of claims of medical bills and lost wages without the need to investigate and determine fault.  It is limited in its benefit because it does not provide for the many other various intangibles that are the effects of a car accident such as pain, suffering, emotional distress, inconvenience, and things of this nature.  Bernstein | Polsky are committed to giving clients the best legal advocacy we can offer, so the sooner we hear from you, the faster we can work together to create and effective and aggressive strategy for your case.
Don't wait to call the lawyers at Bernstein | Polsky until it's too late. There is a significant element to "no-fault" claims, which is that you are not permitted to make a claim for personal injury damages against a negligent driver unless your medical bills reach a certain threshold level, or your injury is deemed sufficiently serious. These restrictions on drivers were placed in an effort to eliminate smaller claims and the congestion in our court system.  In Florida, only car accidents that result in permanent injury, or significant and permanent scarring or disfigurement, will allow someone to circumvent and make a claim outside of the "no-fault" system.  As these are very vague qualifiers, it is important to consult with an experienced car accident law firm like Lieberman Injury Law, to determine whether your claim meets Florida's threshold for a serious injury.
There are a many other things that you should know about in order to maximize the chances of a receiving compensation if you have had a car accident in Boca Raton. However frustrating or inconvenient a car accident or injury can be, it is important to stop, breathe, collect your thoughts, and think about the future for you and your family. This mostly takes the form of documenting all evidence and following the proper procedures so that you can collect financial compensation for your losses in the future. Make sure you do the following:
Consistently get medical treatment
Keep good medical records. Always communicate your medical history, to your physician, and to your attorney
Have a persuasive presentation. Successful mediation boils down to the quality of your presentation
Provide prompt notice. Florida has "No-Fault" law for car accident cases, and no-fault claims come with strict timelines.  Provide prompt notice if you need to make a claim to ensure compensation
If you suffered an injury or lost a loved one in a car accident in Boca Raton, you can call Bernstein | Polsky for unparalleled legal representation and guidance through this difficult time. Nobody ever expects a car accident or injury to occur. At the very least, it can be frustrating and stressful; at it's very worst, it can be permanently debilitating and deathly. Call Bernstein | Polsky for the best the car accident lawyer to help you recover the compensation that you deserve.
https://bpinjury.com/wp-content/uploads/2022/09/CarAccident.jpg
240
360
damg
https://bpinjury.com/wp-content/uploads/2023/03/logo.svg
damg
2019-08-07 16:53:33
2019-08-07 16:53:33
Who Can You Call for a Car Accident Lawyer Boca Raton?