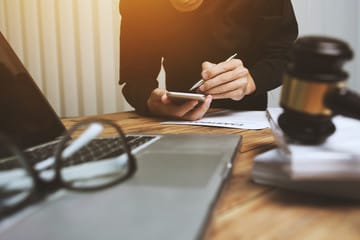 How Long Do I Have to File an Injury Claim?
Sudden injuries caused by slip and falls, car accidents, or property negligence can bring life as you know it to a grinding halt. Depending on the extent of your injury, recovery may take months to years. Even then, there's no guarantee your life will ever be the same. Even if it's been years since your accident, it's not too late to file injury claims in Boca Raton. Here's what you need to know about filing personal injury claims later down the line.
Why Do People Wait to File Personal Injury Claims?
We hear and see legal commercials urging us to file personal injury claims immediately to get the full payout for your injuries all the time. While it seems like a no-brainer, people leave millions of dollars in restitution on the table every year. Why? There are a few reasons:
They don't believe they have a case
They are uninsured and afraid of the legal consequences
They are afraid of going up against large companies
They didn't feel the injuries at the time of the accident, or
They don't believe their injuries are that serious
They think the time they have to file has already elapsed
Don't allow misinformation to make you suffer unnecessarily. Failing to file a personal injury claim can lead to financial struggles for years to come. The team at Bernstein | Polsky are the best personal injury lawyers in Boca Raton. We can help you get the money you deserve.
Why Should I File My Personal Injury Claim Immediately?
The sooner you file your personal injury claims in Boca Raton, the better. Not only does it help to establish the legitimacy of your claims, but by filing soon after a car accident, slip and fall, or other injury, you can ensure the facts of the case are accurate. As more time passes, the details may fade or become harder to prove. Filing a claim months or years later opens the door to plausible deniability for insurance companies and responsible parties. For example, back injuries can be exasperated over time, leading to insurers denying your claim based on the possibility of a different cause.
How Long Do I Have to File Personal Injury Claims in Boca Raton?
Despite the urgency that is often pushed when it comes to filing personal injury claims, Florida law allows for most injury claims to be made up to four years after the initial date of the injury. This time frame may be different depending on the specifics of your case.
Car Accidents- Four Years
A general rule of thumb is that your injury claim must be initiated within four years of the inciting incident. Even one day over can completely void your right to compensation. However, in some cases you may have less time to file.
Wrongful death claims caused by a car accident must be filed within two years of the accident.
Personal injury claims involving accidents in which an active duty government employee may be at fault must be filed within two years. Any additional lawsuits cannot be filed until a 180-day (six month) investigation has been completed.
SIip and Fall Injuries- Four Years
Injury claims against a business or property owner whose negligence leads to a slip and fall accident must be filed within four years of the incident. Employees who are injured on the job must follow the worker's compensation process. If denied, the personal injury lawyers of Bernstein | Polsky can help you get the compensation you deserve.
How Long Do I Have to Seek Treatment for My Injuries?
At Bernstein | Polsky, we understand that injuries may not be immediately evident following an accident. Shock and adrenaline can keep pain at bay for days afterward—however, you need to be careful. If you were recently involved in an accident, it's important to pay attention to your body. While some soreness may be expected, areas of extreme pain or tenderness could be signs of serious damage. It is especially important to see a doctor if you have serious back or neck pain, difficulty breathing, or changes in your cognition.
https://e6a8q5fu3cm.exactdn.com/wp-content/uploads/2022/09/Bernstein.jpg?strip=all&lossy=1&ssl=1
240
360
damg
https://bpinjury.com/wp-content/uploads/2023/03/logo.svg
damg
2019-10-21 14:47:17
2019-10-21 14:47:17
How Long Do I Have to File an Injury Claim?