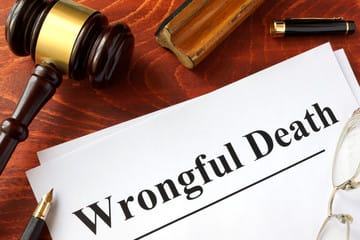 Who Can File a Wrongful Death Claim?
The sudden passing of a family member or loved one is a shocking and devastating experience. The emotional turmoil of such a tragedy changes one's life forever, especially if they were lost to a preventable accident, medical malpractice, or malicious assault. The financial strain of final medical expenses and funeral costs only compounds the suffering and struggle. While nothing can atone for your loss, a wrongful death attorney in Boca Raton can help to mitigate some of the stress and anxiety, allowing you and your family to focus on healing. At Bernstein | Polsky, we understand how difficult this time in your life is. Our team will fight for you and your family to get the closure you deserve.
What Qualifies for a Wrongful Death Claim?
If your family member was the victim of someone else's negligence, leading to their untimely passing, you may qualify for compensation. These funds are intended to cover end of life expenses for medical care, funeral services, and other debts caused by an unforeseen death. In some specific circumstances, you may also qualify for compensation for lost wages and pain and suffering. Under Florida legislation, Florida statute section 768.19 defines wrongful death as "caused by the wrongful act, negligence, default, or breach of contract" of another person or entity. This allows the estate of the deceased to seek reparations in the civil court outside of any criminal charges that may be involved. Examples of cases a wrongful death attorney in Boca Raton may assist with include:
Construction accidents as a result of improper safety measures
Fatal car accidents caused by an impaired or distracted driver
Medical malpractice resulting in death
Who Can File a Wrongful Death Lawsuit?
In order to prevent abuse of the law, Florida legislation dictates only certain people can file wrongful death claims. This is intended to ensure those who are most heavily impacted by the financial strains of a sudden passing receive the compensation they need. Such parties include:
The legally recognized spouse (including long-term partner in some states)
Biological or legally adopted children who are financially dependent on the deceased
Parents of the deceased, if they were unmarried
Other financially dependent parties, if none of the above apply
If you are unsure if you qualify to file a lawsuit, a wrongful death attorney in Boca Raton can help. At Bernstein | Polsky, our team of knowledgeable and experienced legal professionals can help guide you through the entire process.
How to File a Wrongful Death Lawsuit
A wrongful death lawsuit must be filed within two years of the date of death, unless extenuating circumstances supersede that time constraint. At this time, damages which may be claimed include:
Lost wages and benefits
Reasonably assumed expected wages, as calculated by the courts
Lost perspective accumulated value of the estate
Medical and funeral expenses paid by the family or estate
Mental and emotional pain and suffering
Loss of support and services provided by the deceased to a dependent family member
Loss of companionship, guidance, and protection provided by the deceased, and more
As a civil case rather than a criminal one, it is up to you to prove the fault of the defendant. Such factors include duty of care, breach of said duty, and causation on the part of the accused. The wrongful death attorneys at Bernstein | Polsky can help guide you in collecting the necessary documentation and evidence to do so. Let us help your family through this challenging time.
https://e6a8q5fu3cm.exactdn.com/wp-content/uploads/2022/09/wrongful.jpg?strip=all&lossy=1&ssl=1
240
360
damg
https://bpinjury.com/wp-content/uploads/2023/03/logo.svg
damg
2019-10-10 14:20:15
2019-10-10 14:20:15
Who Can File a Wrongful Death Claim?