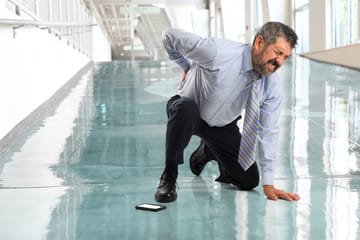 When to Call a Premises Liability Lawyer in Boca Raton
Have you been looking for a Premises Liability lawyer in Boca Raton? Premises liability laws in South Florida are set up to protect public and private properties, and to guarantee that property managers, homeowners, organizations, and government corporations can ensure the security of guests at all times. The law firm of Bernstein | Polsky is known as one of the best South Florida premises liability lawyers in Boca Raton. We believe in your personal protection rights and we believe that everyone should be protected by those rights.   
Premises liability injury is an accident where a person may get hurt at the workplace, at a government institution or in a commercial area and become eligible for a claim that will provide you the coverage you need. Some common types of premises liability claims include:   
Elevator or escalator issues  

 
Animal attacks – dog bites are the most common  

 
Slip and fall accidents  

 
Negligence in security measures around the premises, such as no warning signs  

 
Stadium accidents or ride accidents in amusement parks etc.  

 
Exposure to chemicals, toxic fumes, and other such gases  

 
Fire-related emergencies  

 
No matter what the cause of the premises liability accident in Boca Raton may have been, Bernstein | Polsky is here to help. If you have sustained a premises liability injury in Florida due to the negligence of another, you need every chance at success of winning the damages that you're entitled to. At Bernstein | Polsky our long history of working with clients like you means that you get a team with the knowledge and experience necessary to fight the insurance companies and broker settlements with the most value.  
Under the Premises Liability laws in Florida laws, property proprietors and directors are legally bound to address potential risks, square unapproved section, or post a notice sign for guests as warnings where required. If you or a loved have been injured due to perilous conditions (of any sort) on another person's property, you may qualify for reimbursement or compensation. Money that you will need to make up for any lost wages, to pay for your costly medical bills, or to pay for the ongoing therapeutic treatment that is vital to your recovery. You can make the accused party pay for the physical, mental, financial and psychological damage done to you.  
Our Premises Liability Lawyers at Bernstein | Polsky are here to help you get the compensation you deserve, if you have sustained any injuries in a property due to the negligence of others, call us and we will help.   
https://e6a8q5fu3cm.exactdn.com/wp-content/uploads/2022/09/SlipFall.jpg?strip=all&lossy=1&ssl=1
240
360
damg
https://bpinjury.com/wp-content/uploads/2023/03/logo.svg
damg
2019-12-31 14:58:23
2019-12-31 14:58:23
When to Call a Premises Liability Lawyer in Boca Raton